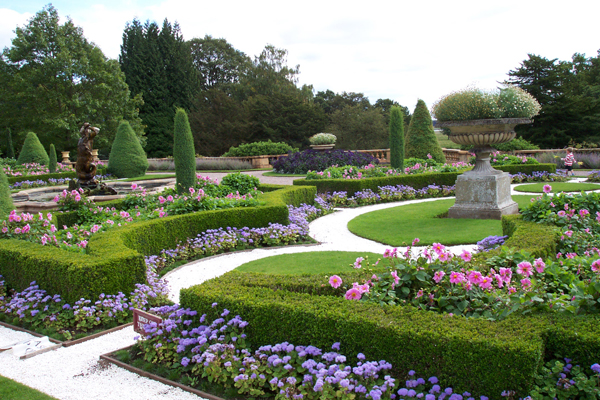 From Virginia Beach, Virginia I welcome you to my website where I share my photos, stories and the history of the gardens that I have visited in Great Britain, Ireland and my own country. My first visit to Great Britain was in May 2004, when my husband David and I visited our daughter who was attending Reading University near London that year. Our trip focused on historical sites near London and Cardiff. A visit though, to Oxford Botanic Garden, was a spark for return visits focusing on gardens and due to a study in Garden Center Management, garden centres.
The Lake District

In September 2007 we returned with a visit to Manchester where our daughter was now living. David knew that I would be attracted to the gardens and landscape in the Lake District and with Windermere a two- hour train ride from Manchester; it is convenient travel for day trips. My introduction to the Lake District at Brockhole was soggy. A return trip on a dry day found us hiking up a narrow mountain road to reach the Lakeland Horticulture Society gardens at Holehird. The mountainside trees had a tinge of very early autumn but the hydrangeas framing the view of the mountains and the perennials in the walled garden, was still showcasing summer blooms. Subsequent visits in May and June have found the garden parading late spring and early summer colorful displays, due to many years of hard work by volunteer LHS gardeners. Not surprisingly, the Lake District has become my favorite destination.
Traveling in Great Britain

The majority of our travels in the UK have been by train using the Brit Rail Pass, walking and buses. From Manchester David and I have taken several day trips by train to visit London and Kew Gardens. Our daughter was a tour guide for us on a trip to Liverpool and Ness Botanic Gardens. Durham and Edinburgh are longer day trips from Manchester. Train rides on the weekend often find conversation easy with other travelers or locals, which passes the time quickly. Since Great Britain is "A Nation of Gardeners," there is no shortage of gardens to visit with or without private transportation. I have found that the Good Gardens Guide is useful for selecting gardens to visits in the British Isles.
Travels with the Members of the Lakeland Horticulture Society

In May 2011 David relinquished his role as my tour guide when I traveled with LHS members to the gardens of northwest Scotland. My story of my travel with the group and the highland gardens we visited can be found as the journal article I wrote for the Lakeland Gardener. A second trip was taken with the LHS members to Ireland in June of 2012 and the gardens of Dublin and Cork are being added to my website.
As a member of the Virginia Beach, Virginia, Master Gardener Association, I enjoy the fellowship provided by other gardeners in this region. I have also been fortunate to share in the comradeship with my British cousins the enthusiasm of gardening in their country and traveling with them to visit other gardens of mutual interest.
Photos

I do have additional photos of many of the gardens in Photo Archive. Perhaps these photos may inspire you to visit gardens or recall memories of gardens you may have visited in the past. Enjoy!.